AC/DC Leakage Current Meter

Model:92108

The 92108 is a handy universal tester for checking electrical appliances.
It's used for:
Motor operated appliances : washing machine, electrical pump, lawn mower, refrigerator, electric drill, electric fan, vending machine.
Electrothermal appliances : toaster, electric stove, electric curling iron, hair dryer.
Electronic appliances : projector, duplicator and photographic enlarger.
Other appliances : portable generator, burglar alarm, medical and dental equipment.
Features:
● High quality Taut Band movement.
● Four functions : DC current, AC current, AC+DC current and ACV measurement.
● Three input resistance ranges : 1KΩ, 1.5KΩ and 2KΩ.
● 200uA full scale value.
● ±2.5% full scale value accuracy.
● Built-in overload protection circuit.
● Robust, compact and easy to carry.
● Meets : IEC/EN61010-1 CAT. III 600V, EN61326-1
Technical Data:

Range

DC Current

0.1-1-10 mA

AC Current

0.1-1-10 mA

AC+DC Current

0.1-1-10 mA

AC Voltage

150 - 300V (50/60 Hz)

Accuracy

±2.5% of full scale value

Input Impedance

Current Ranges

1KΩ, 1.5KΩ and 2KΩ

Voltage Ranges

150V/500KΩ, 300V/1MΩ

Working Frequency

20Hz ~ 5kHz

Overload Protection

With stands 30mA AC for 10 minutes

for each current measuring rang

Operating Temperature

Operating Humidity

Max. 80% R.H.

Power supply

8 x 1.5V, IEC LR6

Dimensions

210 x 210 x 100 mm

Weight Approx.

1.4kg (battery included)
Scope of Supply:
1 pc AC/DC Leakage Meter 92108
8 pc Battery 1.5V, type IEC LR6
2 pc Test Leads (red/black)
1 pc Instruction Manual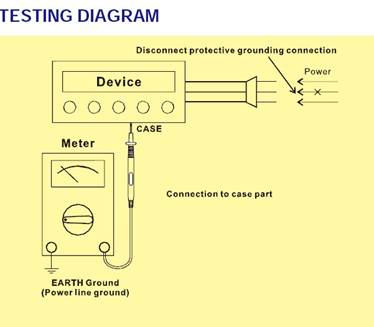 Link to Model 91807