AC Leakage Meter
Model: 93507
The 93507 are special purpose AC milliammeter designed to measure hazardous leakage current from electrical appliances and other power line operated equipment.
It's used for:
moter operated appliances : Washing machine, electrical pump, lawn mower, refrigerator, electric drill, electric fan, vending machine.
Electrothermal appliances : Toaster, electric stove, electric curling iron, hair dryer.
Electronic appliances : Microwave ranges, TV receiver, welding machine.
Light source appliances : Projector, duplicator and photographic enlarger.
Other Appliances : Portable generator, burglar alarm, medical and dental equipment.
Features:
● High quality movement.
● Small and lightweight, easy to use and storage.
● Mirror scale : makes reading pointer easy.
● With stand : makes reading and measuring easy.
● 200μA full scale value.
● Fuse protected.
● Low battery indication.
● Meets : EN61010-1 CAT, III 600V EN61326-1
| | |
| --- | --- |
| AC Leakage Currnet | |
| Measuring Range | 0.3mA - 1mA - 3mA - 10mA - 30mA |
| Accuracy | ± 2% F.S. |
| Input Resistance | |
| AC Voltage | |
| Measuring Range | |
| Accuracy | ± 2% F.S. |
| Input Impedance | 150V 500KΩ / 300V 1MΩ |
| General | |
| Power Supply | |
| Low Battery Indication | <7V |
| Dimensions | 160 x 100 x 45 mm |
| Weight | 370 g (Battery Included) |
Scope of Supply:
1 pc AC Leakage Meter 93507
1 pc Battery 9V, IEC 6LR61
2 pc Test Leads (red/black)
1 pc Instruction Manual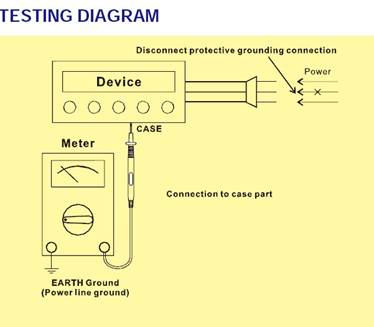 Link to Model 91807